NextSteps Research provides a unique, predictive tool to assess the strength of both individuals and teams and their characteristics in the context of a particular business environment.
Over the past fifteen years, we have developed, tested, and statistically proven a predictive management assessment tool that accurately pinpoints the optimal business environment for an individual. The business environments run the full spectrum – from a start-up or small/medium-sized business to a Fortune 500 company or government organization.
The tool has been developed from extensive academic and international consortium studies from institutions such as Harvard Business School, UVA's Darden Business School, MIT's Sloan School of Management, Kaufmann Foundation, and Babson College. After undergoing convergent validity testing against mathematical models, the assessment was compared to an assessment with a dataset of over two million people and had a 98% correlation to actual results.  The tool provides a validated and cognitive framework to help determine the success of an individual or team in a given business environment.
Through an intensive questionnaire, our Management Assessment measures executives and job candidates on seven key attributes: Achievement – Multitasking Capabilities – Financial Goals – Recognition – Independence– Risk Tolerance – Innovation.
The Management Assessment identifies the business environments that are the best fit for the executive. The business environment will be defined both by size and growth dynamic (e.g., early stage start-up, mid-size growth company, Fortune 100 Company, etc.) Our analysis of these results allows the individual to understand their:
Ideal Business Environment

Individual and Team Strengths and Weaknesses

Individual Motivations

Individual Leadership Style

Team Dynamics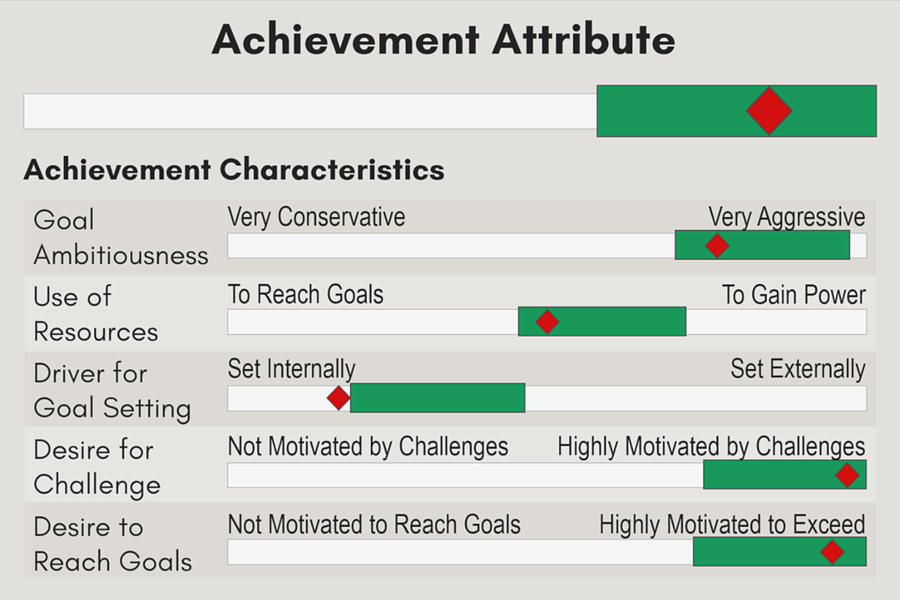 In this example, the red markers for this achievement attribute illustrate an individual who sets relatively aggressive goals, is motivated by challenges and strives to exceed the goals they set. Often their goals will be set by what they see fit and they will use their resources to complete their goal as well as put in place some infrastructure to make the goal repeatable.